On these cold days, we spend a lot of time indoors. I clean and cook, the kids get a lot of free play time and the tv seems to be on often. I got my work completed this morning and got out the play dough. We had fun for a while making "wormies" and "pizza", then I started cutting out shapes and I made a play dough star. Drew picked it up and said "Look, baby Jesus is born." It was so sweet. Then the Lord gave me an idea, make a play dough nativity and tell the story.
So I had the star, and I made Mary, Joseph, the donkey, angels, an inn, the inn keeper, the stable, baby Jesus, the swaddling cloth, shepherds and sheep, and the wisemen. These creations were done rather quickly, I am no Michelangelo, my sheep were tiny balls, ha ha, oh and we had 3 wormie wisemen because they were already made. After assembling the "cast" I announced "Ok, I got a story to tell you."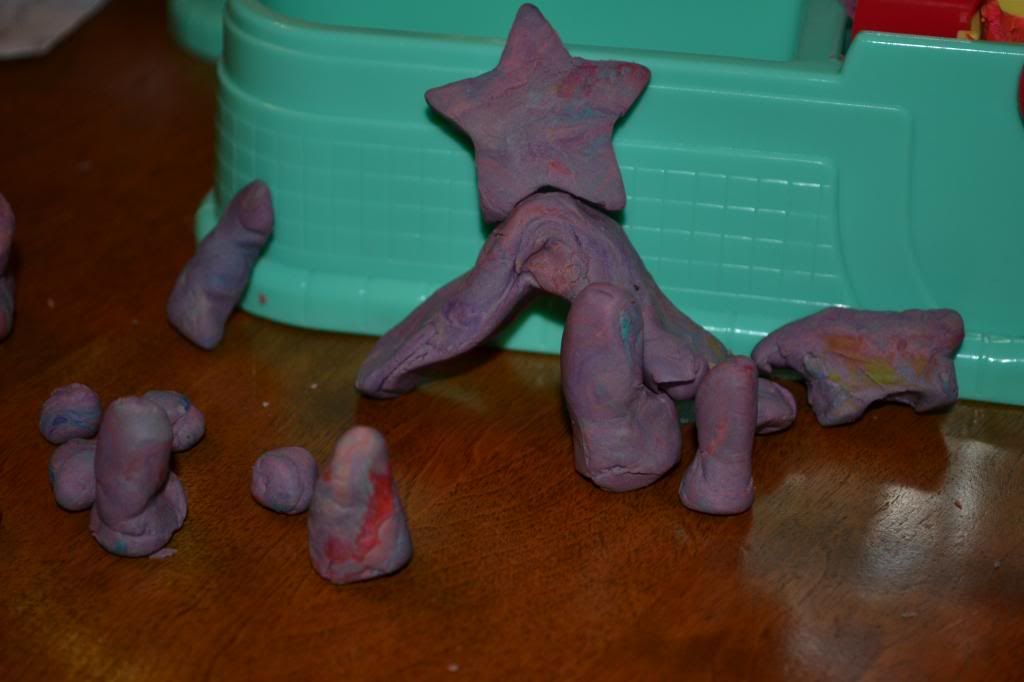 I walked them through the story of the first Christmas (it can be found in Luke chapter 2) and acted it out with the little play dough figurines (if you will allow me to call them that, lol). It was actually really fun, and visual, audio and hands on learning really helps kids remember. Of course when I finished, they wanted to take turns telling the story. It wasn't extravagant or pre-planned but it was a special time to teach my kids about the true meaning of Christmas and a fun memory. Brought tears to my eyes watching Drew tell me the story!
I hope you can take time for a teachable moment during the busyness of the holiday hustle and bustle to teach about the real meaning of the season. It can be with play dough, pictures, coloring pages, or act out the story with stuffed animals or matchbox cars (gotta get those boys involved), watch a movie (got a cute one from the library this week "Joy to the World"), read a picture book, read the actual story from the word (we do this before we open presents Christmas morning), actually act out the story with the kids being characters(I remember doing that as a kid with all my cousins, and one year I was Mary at church -my brother was Joseph (haha At small churches there are limited options :), last year all the cousins dressed up as the characters in the nativity), teach your little ones using your nativity set, there are a lot of options out there. Wanted to share a few ideas to get those creative juices flowing.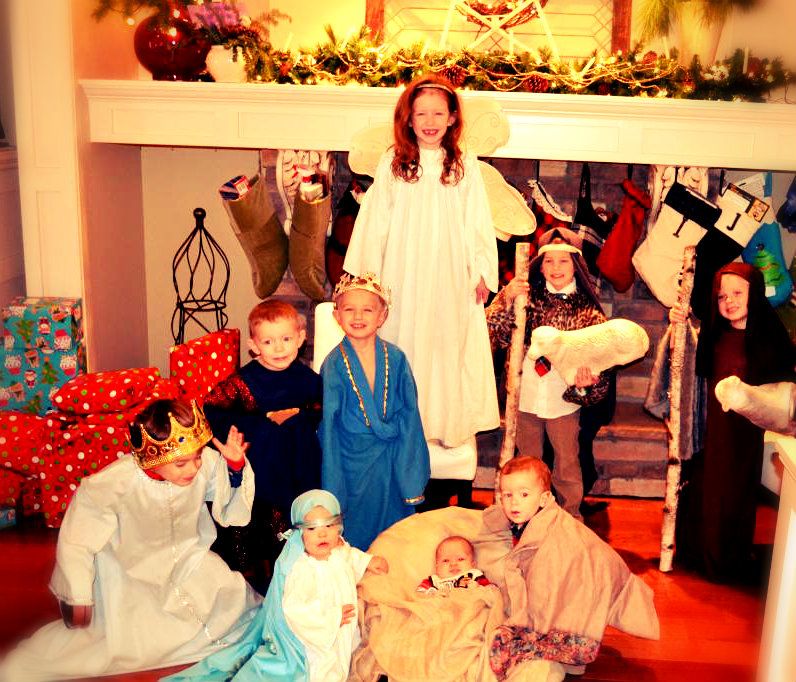 Family nativity!
Possibly the smallest Mary ever!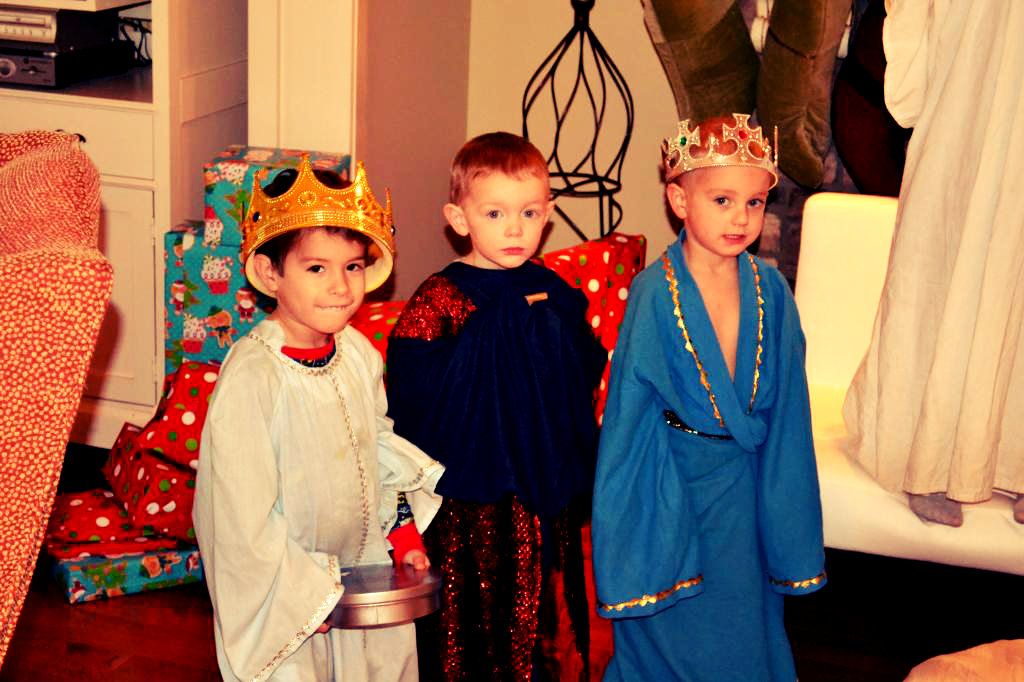 Sweetest 3 wisemen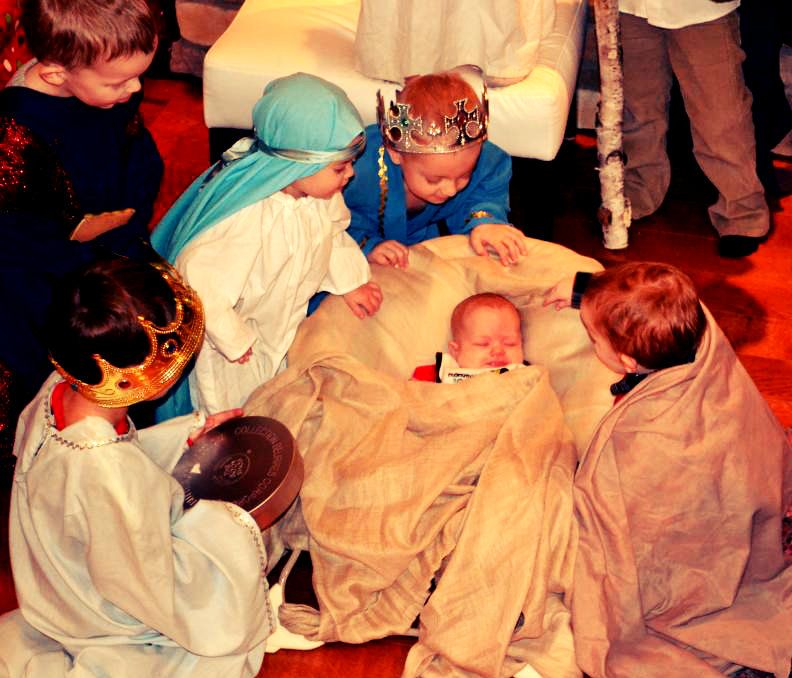 Everybody wanted to see baby Jesus!